It's 2020 and the Decentralized Web has working code. Protocols used by dozens of projects. Projects employing 100+ developers. But if you zoom out, where is the DWeb Ecosystem as a whole? What will it take to scale to widespread audiences?
DWeb Meetup June brings you two new reports on decentralization and a free user experience design clinic, meant to bring the report's recommendations to life.
Plus, we're experimenting with a new meetup platform: Gather.town, using WebRTC to create a virtual gathering space complete with a beach, bar, auditorium and hang out spaces.
Check out these new reports: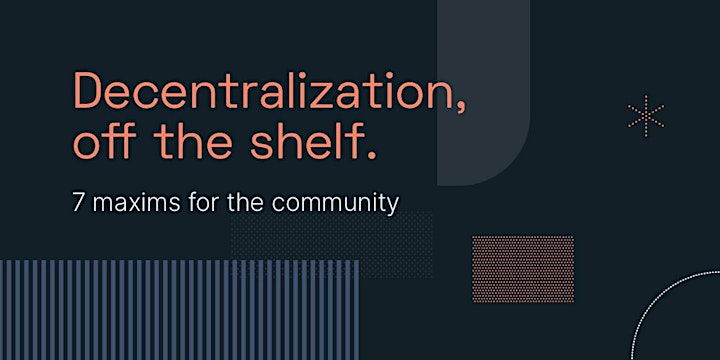 Decentralization, off the shelf.
There is a significant gap between the protocols that define the decentralization space and the applications that users want to adopt. Through a series of interviews and focus groups with technology designers and builders, the authors have identified 7 areas where projects can improve their own practice; where targeted research is necessary; and where funders can enable collaborative innovations.
At the Dweb Meetup, Decentralization Off the Shelf (hosted by Simply Secure) will be inviting decentralized applications to a free user experience clinic. They are inviting everyone - from early-stage prototypes to already-launched projects - to submit a request for free help during the meetup. We will select up to 5 participants to highlight during the event, helping their project better succeed as well as providing a learning opportunity for everyone else!
If you'd like your project to be highlighted in the event, please fill out this brief survey and we will contact you with further details!
Hear from one of the report's authors, Karissa McKelvey, who researches technical architecture design and its impact on usability, safety, and resilience. Previously, she led user and developer experience for dat and hypercore, a decentralized data sharing tool and peer-to-peer hypermedia protocol.
Design Clinic by Eileen Wagner, who advises teams and organizations on UX design and research at Simply Secure. Her focus is on information architecture, content strategy, and interaction design--or anything that helps people make sense of complex technologies.

Researchers at Fluence surveyed 650 Decentralized Web developers for insights into ongoing progress, major hurdles and bumps along the road. Here's what they found:
At the DWeb Meetup, hear from one of the report's authors, Anna Lekanova, who leads community building at Fluence, a peer-to-peer computing protocol & a software licensing system.
SCHEDULE: (all times are Pacific Time)
DWEB NODE TIMES: SF: 10:00 AM / Austin: Noon / Boston: 1 PM / Sao Paulo: 2 PM / London: 6 PM / Prague-Berlin: 7 PM / Perm: 10 PM / Shanghai: 1 AM next day / Sydney: 3AM next day / Auckland 5 AM next day
9:30 AM PT: Come early and explore our virtual world at Gather.town
10:10 AM PT: Welcome in the main conference room (Zoom interface)
10:15-10:30 AM: Overview of Decentralized Web Developers report by Anna Lekanova + Q & A
10:30-10:45 AM: Overview of Decentralization Off the Shelf by Karissa McKelvey + Q & A
10:45-11:15 AM: User Experience Clinic with Eileen Wagner
(Volunteer projects will get hands-on advice on UX design and how to improve)
11:15-11:20 AM: Need help? Georgia Bullen shares how Simply Secure works to support projects in the DWeb.
11:20-Noon: Come back to our Meet up space in Gather.town: go together to the beach and hear the waves; share a drink at the virtual bar; gather in small groups around the fire. Have fun and socialize!
Questions?
Write to wendy@archive.org with questions, to volunteer, or more.